UNIMATES EDUCATION VIETNAM PROUDLY RECEIVES "TOP 10 ASIA – PACIFIC OUTSTANDING BRAND 2021" AWARD.
Meeting the high demand of the market by the existing works and well received by customers, on April 24, 2021, UNIMATES Education Vietnam was honored with the title of Top 10 Asia-Pacific Outstanding Brands 2021 by Asia-Pacific Economic Journal.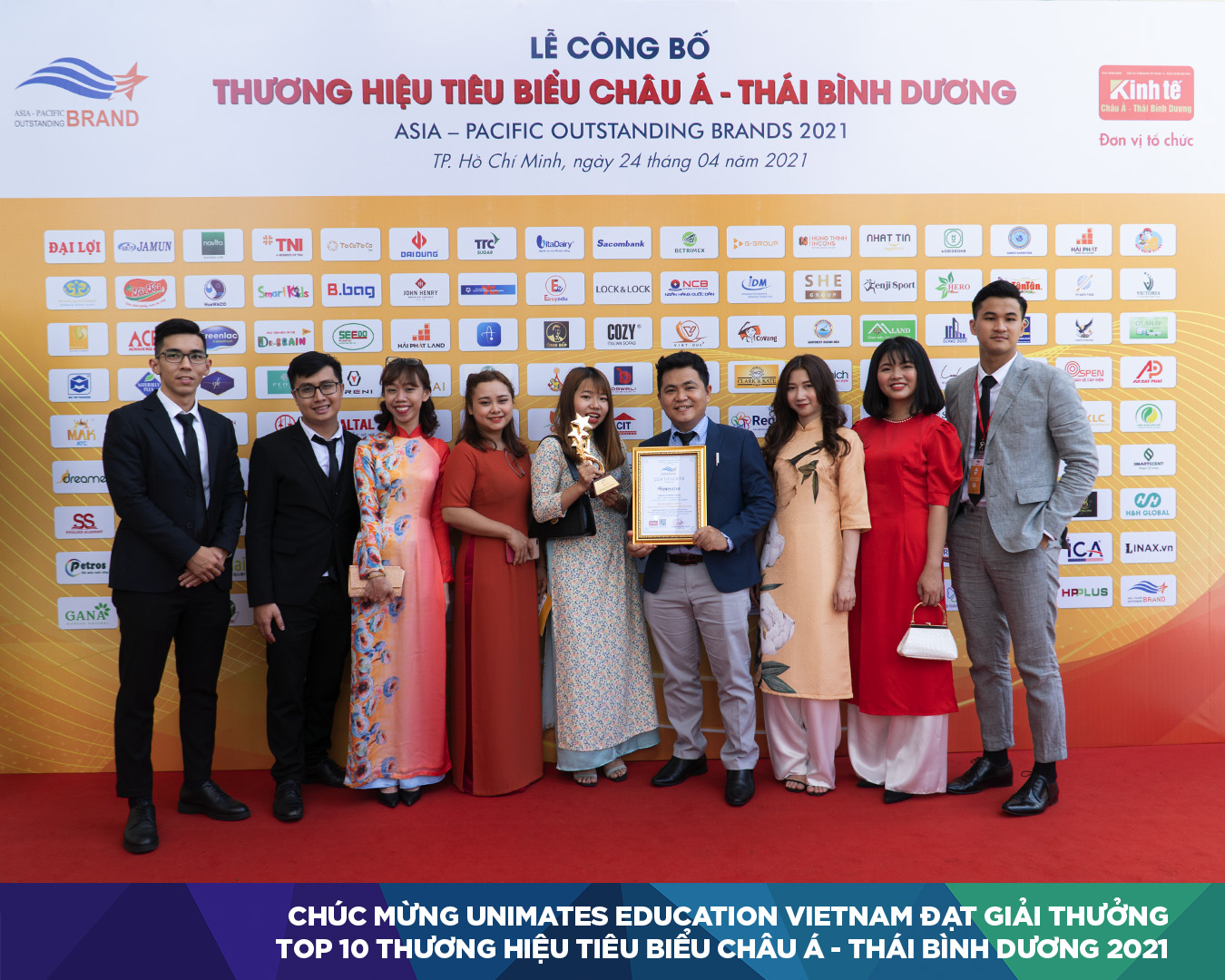 Asia-Pacific Outstanding Brands is an annual activity aimed at promoting the typical brands and quality products of enterprises applying technology to increase the competitiveness and meet the customers' needs. The aim of this international award is to honor the Vietnamese brands in the Asia-Pacific region that have made positive contributions to the nation's economy, as well as promote their brands, products and services to consumers.
From more than 1000 applications, the board of organizers have selected more than 100 typical brands which are most popular and trusted by consumers. In the top 100 brands, UNIMATES was honored for TOP 10 based on criteria such as quality of services preferred by consumers, creativity in business style, outstanding service values, stable growth, positive contribution to the economy, and the position of the company in the domestic and international markets.
"Top 10 Asia – Pacific Outstanding Brand" Award not only enriches its achievements but also confirms UNIMATES's leading position in the field of consultant education in Vietnam. This is a worthy reward for the ceaseless efforts of UNIMATES.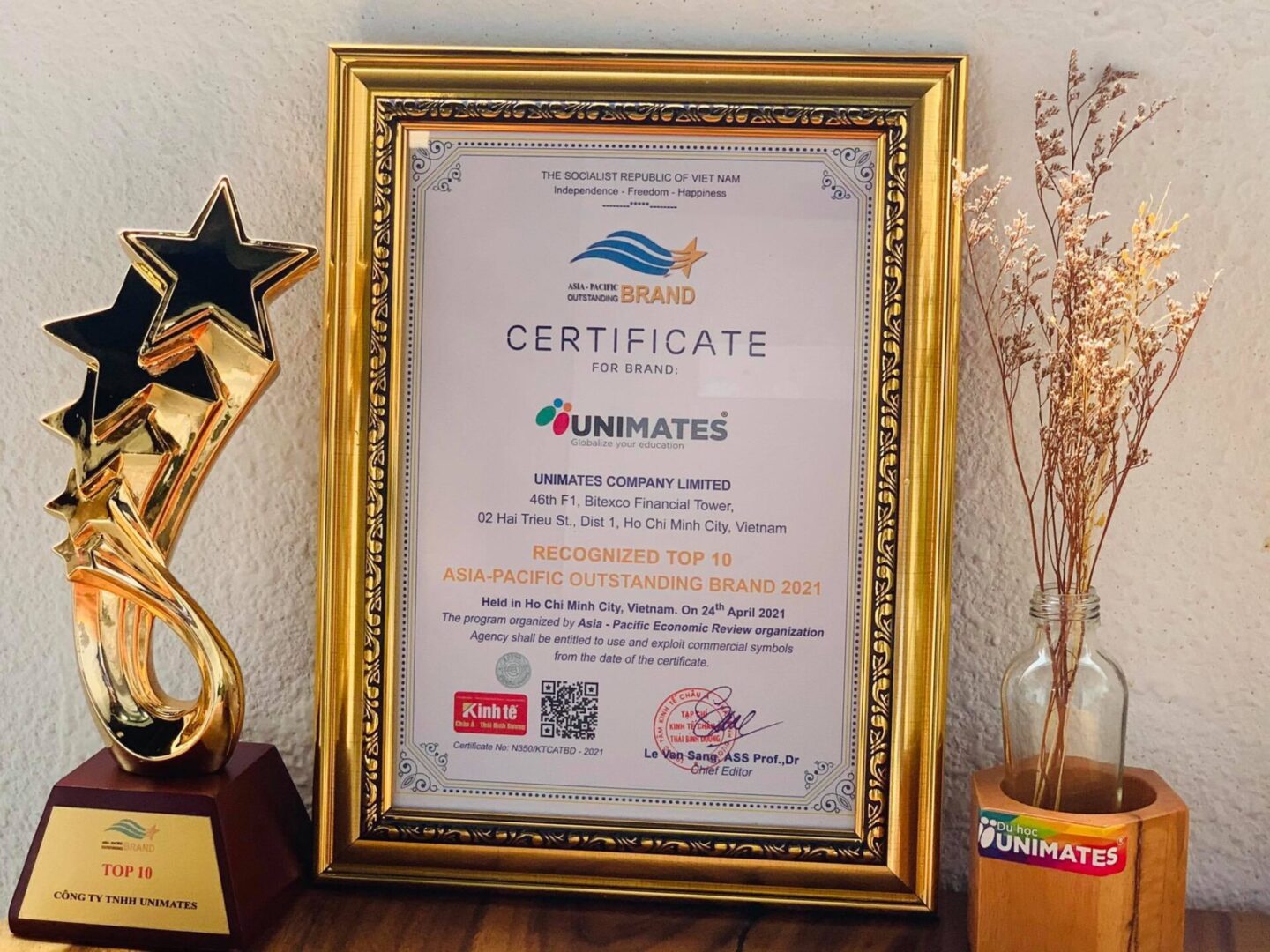 UNIMATES Education is committed to excellence in overseas study counseling, connecting educational activities, caring for and supporting international students also their families. Our partner network includes more than 1000 prestigious universities, high schools, top educational institutions in each country in the world, domestic media agencies, the best global service providers.
In the context that Vietnam needs a large amount of labor who are talented people in all fields, capable of integrating the essence of human knowledge to contribute to the prosperity of the nation.
All are intended to respond to the beliefs and expectations of our students, now and in the future, to prove that every UNIMATES staff member carries the same mission and wishes to accompany students and their families as a family– the essence of the brand UNIMATES (UNI- In English means ONE – a family).
In the pandemic year 2020, when other overseas companies declared their shutdowns, dissolved, or shut down, UNIMATES chose to act and then launched a 24/7 support campaign to assist Vietnam international students. While other companies struggle to change their business, UNIMATES chose to connect with International SOS – the largest global health-security group, which is providing services for 2/3 of the world's largest corporations on the Global Fortune 500 list, to express its desire to cooperate to protect thousands of its international students around the world. All that has come true, is a promise of our statement to accompany the students, not just a plain promise.
And all those efforts are well deserved.
In December 2020, UNIMATES was honored by the SME Asia magazine for the SME100 Asia Award as one of the fastest-growing SMEs in Vietnam, the only international study abroad consulting company that honored in 2020 – SME ASIA is Asia's leading magazine for SMEs, owned by BMI Media Group, the managing unit of HR Asia Magazine with the prestigious HR award Asia Best Companies to Work for in Asia.

Cam kết của UNIMATES Education với phụ huynh, học sinh
Trước và trong quá trình làm hồ sơ
Kiểm tra trình độ ngoại ngữ miễn phí, tư vấn lộ trình luyện thi các chứng chỉ tiếng Anh (IELTS, SAT) phù hợp với chương trình và bậc học của học sinh.
Cung cấp dịch vụ dịch thuật các giấy tờ đáp ứng yêu cầu xin visa của lãnh sự.
Tư vấn 1-1, cam kết bảo mật thông tin khách hàng
Tư vấn, cung cấp tài liệu, chọn trường, thi học bổng phù hợp với năng lực và yêu cầu của mỗi học sinh.
Tư vấn lộ trình du học, săn học bổng, cơ hội thực tập, làm việc sau khi tốt nghiệp.
Xin thư mời nhập học từ các trường, hướng dẫn thủ tục tài chính.
Hỗ trợ đăng ký khám sức khoẻ, hướng dẫn làm và nộp hồ sơ, luyện phỏng vấn xin visa du học đối với học sinh, visa thăm thân đối với phụ huynh.
Hỗ trợ đặt vé máy bay, hướng dẫn trước khi bay, kết nối với trường.
Hỗ trợ 24/7 trong các trường hợp khẩn cấp.
Sau khi học sinh đã sang học tại nước ngoài
UNIMATES là cầu nối chặt chẽ giữa gia đình và nhà trường để đảm bảo học sinh tuân thủ các quy định và đạt được kết quả học tập tốt nhất.
Hướng dẫn đóng học phí trong suốt quá trình học.
Hỗ trợ gia đình và học sinh trong quá trình học tập tại nước ngoài về thủ tục học tập tại trường, chuyển trường, chuyển chuyên ngành.
Hướng dẫn hồ sơ xin gia hạn visa miễn phí.