Mission, vision, core values and our journey
Welcome to UNIMATES Education Vietnam, we are the
best and most thoughful education consulting services in
Vietnam.
UNIMATES Education is committed to excellence in overseas study counseling, connecting educational activities, caring for and supporting international students also their families. Our partner network includes more than 1000 prestigious universities, high schools, top educational institutions in each country in the world, domestic media agencies, the best global service providers.
Over the past 7 years of operation, UNIMATES has built a solid reputation in providing study abroad consulting services with student-centered orientation, reasonable cost, and high quality. We take pride in our efforts to improve the quality of overseas study counseling services in Vietnam, contributing to the prosperity of the country and the knowledge power of Vietnam young generation. UNIMATES Education currently provides services to thousands of international students and conducts more than 22,000 consultations with more than 100 direct counseling tripsat high schools and universities in Vietnam.

Our vision and mission statement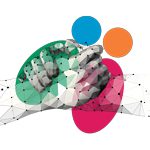 Our vision
Becoming a leader not only in Vietnam but also in the region in the field of
study abroad consulting, educational connection and the most trusted
brand of international study abroad consulting and training cooperation in
Vietnam.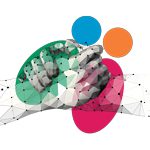 Our mission
UNIMATES'mission is to improve the globalization of education of
Vietnam's young generation, help them access the quintessence of human
education around the globe, contribute to improving the intellectual power
of Vietnam. Through a network of leading partners in each country,
international affiliate programs with top universities around the world by
the motto of creativity, integrity, and student-centeredness.
United
(One family)
Success is never one's own. It is the result of a whole team working together through sharing, trusting and respecting each other. We always share our skills, knowledge and experience together for the benefit of our student, because we understand that each of us has our own strengths.
We are a family, we work together to promote collective strength, and we view students as part of the UNIMATES family for which we have a responsibility to lead and share.
Integrity
(No compromising)
We always think and act with integrity, honor and highest ethical standards. We believe in honesty and in doing the right thing, while at the same time recognizing mistakes and correcting mistakes. We always understand and implement the philosophy of putting the principle of an educational unit above profit. Personality and integrity are the strongest foundations of the standards that UNIMATES targets students, and will not compromise against mistakes. All to deserve the trust of customers, colleagues and partners.
Opportunity
(Education for us all)
We believe that education is an opportunity for everyone, especially young people. Derived from that belief, UNIMATES will make endless efforts to help students open the doors of the future. We will accompany international students to conquer all the best scholarship opportunities.
Also from our side, every scholarship or learning opportunity that students gain is an opportunity of a companionship that student and their family has trusted in the UNIMATES team.
Thoughful
(Understanding with heart)
Our mission is to become a leader in the educational consulting industry; by providing excellent services to each student, starting with thoughtfulness in every action. We strive to achieve the highest professional standards that enhance the quality and long-term wellbeing of our students. Our determination to pursue standards of excellence will allow us to create a model of study abroad counseling that deserves to be cherished. A thoughtful mindset is one of the important guiding principles of every UNIMATES person.
We work not only with our minds but also with our hearts.
Knowledge
(Investment that pay best interested)
We recruit and work with the best academics team to help students access their dream learning opportunities. Continuing training is compulsory for all staff and formal since then.
UNIMATES is proud to accompany students' families, partners and colleagues.
We strive to turn our plans and dreams into an informational reality, dissatisfied with the present, but actively seeking new knowledge. We are the askers. For every UNIMATES employee, curiosity and creativity are without limits. All to allow us to provide the most valuable advice to Vietnamese students.
Legacy
(Proud to see your student succeed)
We always ask ourselves, "Have you worked with the highest potential and highest integrity every day?" Everything we do must be towards a common mission to contribute to the best possible support to international students. Because UNIMATES wants its contributions, through the success of every student will be proud of all UNIMATES employees.
That the fruits of our hard work will contribute to support Vietnamese students to globalizing their education, dare to face all challenges, and fulfill the responsibility of building their own happiness, also the wealthy of Vietnam.



Comprehensive service begins with instant actions
The founding team and staff of UNIMATES recognize many problems in providing consulting services and educational connecting activities in Vietnam.
With our determination, we strive every day to build a complete journey for each student, so they will not become victims of scammers, studying abroad in poor conditions due to lack of right counseling in the meantime, nomore regret for wasting time due to choosing the wrong career, no longer regrets because miss out on a once-in-a-lifetime study abroad opportunity just because the lack of appropriate scholarship information, no longer a scene where international students encounter security and medical emergencies where they and their families do not know who to seek help from, or to which unit for assistance, Students' families will no longer have to panic when their children are sick far away and cannot support or help their children because of the barrier to medical and professional language.
Clearly, to deal with all of that, we need a team that has not only a strong spirit and expertise in all necessary skills but a heart for the students.
That team must act decisively and creatively to bring comprehensive services, so that each student can study comfortable and their families can rest assured for their children to flight higher, seeing the world with a lens of youth, full of confidence and determination, doing the best for themselves, their family and this country.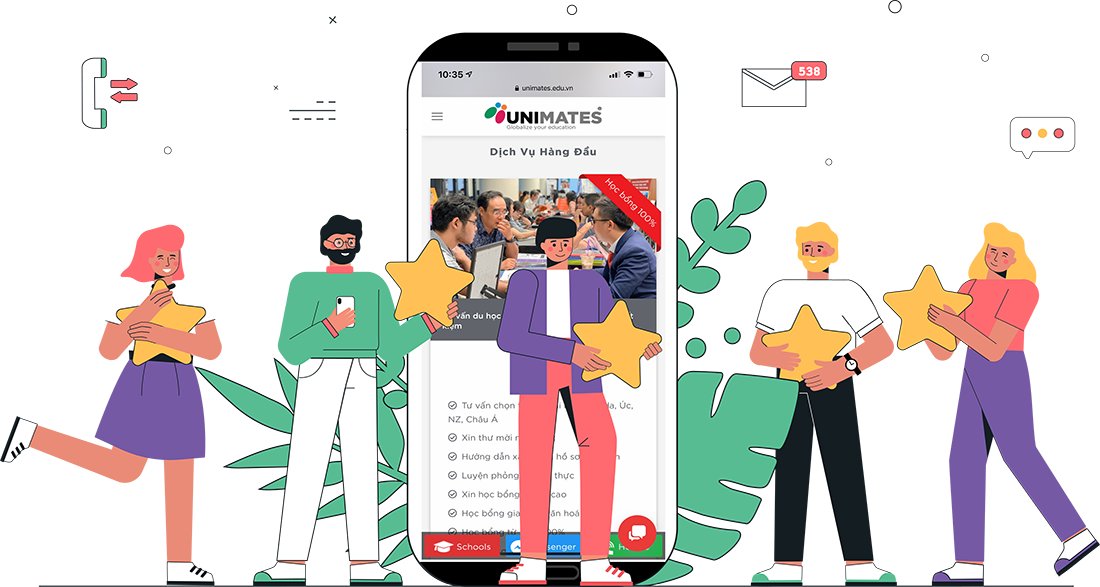 Hard-working and thoughtful, in return for the trust given
To deserve the trust of students and families, the UNIMATES team is
confident to be one of the hardest and most dedicated staff, with hundreds
of counseling trips per year at high Schools and universities,22,000 hoursof counseling, 76 seminars and student support events, over 1200 meetings with school partner every year. All is an extraordinary effort, beginning with
dedication and hard work.

UNIMATES – Born to provide thoughtful study abroad consulting services
Nearly a decade has passed, UNIMATES Education Vietnam has come a long way, though not too long but enough to prove its determination.
In the pandemic year 2020, when other overseas companies declared their shutdowns, dissolved, or shut down, UNIMATES chose to act and then launched a 24/7 support campaign to assist Vietnam international students. While other companies struggle to change their business, UNIMATES chose to connect with International SOS – the largest global health-security group, which is providing services for 2/3 of the world's largest corporations on the Global Fortune 500 list, to express its desire to cooperate to protect thousands of its international students around the world. All that has come true, is a promise of our statement to accompany the students, not just a plain promise.
And all those efforts are well deserved.
One day in December 2020, we were honored by the SME Asia magazine for the SME100 Asia Award as one of the fastest-growing SMEs in Vietnam, the only international study abroad consulting company that honored in 2020 – SME ASIA is Asia's leading magazine for SMEs, owned by BMI Media Group, the managing unit of HR Asia Magazine with the prestigious HR award Asia Best Companies to Work for in Asia.
With a culture firmly rooted in the dreams of our founders and each employee, the bottom line in our overseas study counseling and support has been and always will be "Dedication to accompany – globalization of education". While the UNIMATES family grows, we will continue to be concerned with developing high quality as well as excellence in counseling activities, applying a student-center mindset across the entire business.
We hope that you may feel fully supported by the most talented and knowledgeable team at UNIMATES. Our academic advisors, consultants, and support teams always aim to bring the greatest possible comfort and warmth when you visit UNIMATES offices. "Investing in elite education is a journey, let's do it together."